Geography
Romania is situated in the southeastern part of Central Europe and shares borders with Hungary to the northwest, former states of Yugoslavia to the southwest, Bulgaria to the south, the Black Sea and Ukraine to the southeast and to the north and the Republic of Moldova to the east.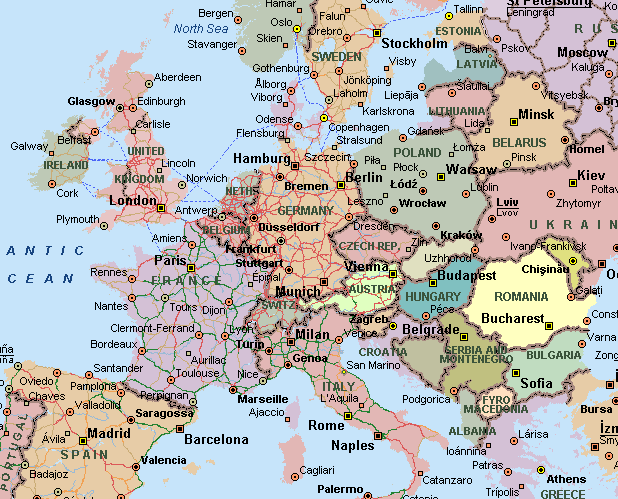 You will be flying into Bucharest - the capital of Romania. However the wedding itself is taking place in Iaşi (pronounced "Yash"). The map below highlights the capital, Bucharest, Iaşi in the north east, and Bran, home of Dracula's castle.
Romania extends approximately 300 miles North to South and 400 miles East to West.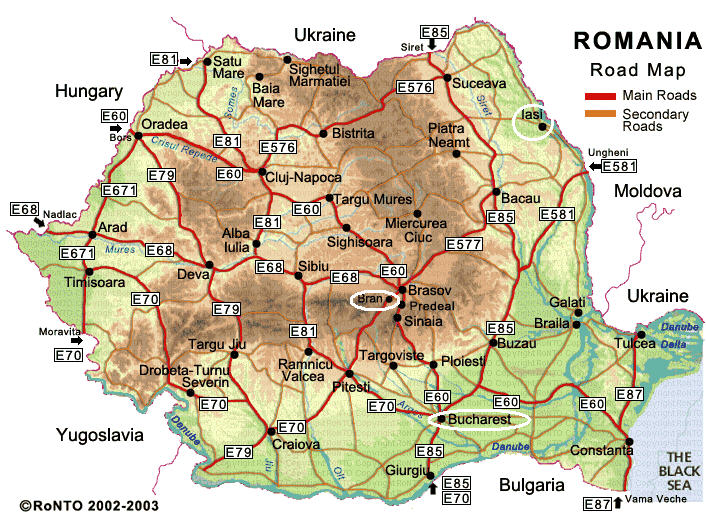 Bucharest - the capital city of Romania - is aligned approximately with the cities of Portland, Oregon; Montreal, Canada; Venice, Italy; and Bordeaux, France.
Romania's territory features splendid mountains, beautiful rolling hills, fertile plains and numerous rivers and lakes. The Carpathian Mountains traverse the center of the country bordered on both sides by foothills and finally the great plains of the outer rim. Forests cover over one quarter of the country and the fauna is one of the richest in Europe including bears, deer, lynx, chamois and wolves. The legendary Danube River ends its eight-country journey through eight European countries at the Black Sea by forming one of the biggest and most interesting wetlands in the world, the Danube Delta.
About a third of the country consists of the Carpathian Mountains (also known as the Transylvanian Alps). Another third is hills and plateaus, rich with orchards and vineyards. The final third is a fertile plain, largely devoted to agriculture. The Danube River runs through the country, from northwest to southeast, culminating in the Danube Delta and the Black Sea.